FrogLMS brings retail excellence within reach.
Our LMS offers flexible training, enabling your team to delve into product knowledge and sales skills at their convenience, from anywhere.
Store managers can effortlessly oversee individual progress, ensuring every staff member is well-prepared to provide top-notch customer service. FrogLMS equips you to stay competitive in a challenging market, streamlining training, best practice sharing, and quick product updates.

CONTENT CREATION
The platform tools empower you to create engaging content that supports learning and upskilling.

INTERACTIVE ELEMENTS
FrogLMS has range of interactive platform features such as image hotspots and quizzes.

Mobile Learning
Don't limit your training to the office, with FrogLMS the content can be accessed across a range of devices.

MONITOR KNOWLEDGE
Managers can get an overview of all staff and the product training that they have completed.

StreamlineD & Accessible
Linear pathways guide your staff through a journey of learning, in the format that's right for them.
What sets

Frog

LMS

apart?
It provides an engaging and interactive way for your team to absorb essential knowledge about your products.
Store managers can effectively monitor training progress, guaranteeing your staff is well-informed and ready to exceed customer expectations. FrogLMS simplifies the sharing of best practices, fostering consistency across your retail network.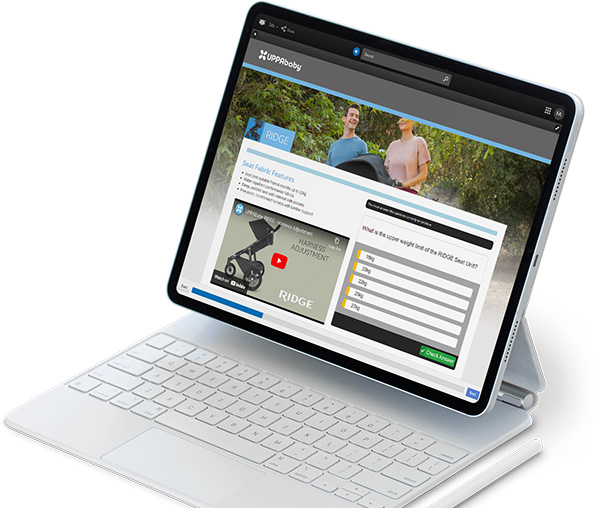 See

Frog

LMS

in action...

DCUK Ltd are the sole distributors for UPPAbaby products in the UK. UPPAbaby is an innovative American company which makes high-quality strollers and car seats that meet the needs of the busy lives of new parents.
FrogLMS has given DCUK a powerful advantage, in arming retail staff across the UK with the knowledge and understanding they need to sell UPPAbaby products effectively.